Details

Category: Company News
Corn prices will fluctuate slightly above $4/bu. through 2020, and corn acres will decline, a new report says. Strong livestock profits will generate growth in cattle and hog sectors, though prices will moderate from current highs.
Row Crop Price Outlook
For corn and soybeans, large U.S. and global supplies will push prices to their lowest levels since 2009, though modest recovery is likely after 2015, according to projections this month from the Food and Agricultural Policy Research Institute (FAPRI) at the University of Missouri.
Estimates call for farm corn prices of $3.89/bu. for the 2014/15 crop based on Aug. 15 conditions, more optimistic than some forecasts and higher than new-crop bids in many locales. FAPRI sees a slight recovery moving forward, with prices of $4.09/bu. for the 2015/16 marketing year and a gradual rise to $4.25 by 2019/20.
Meanwhile, soybean prices of $10.30/bu. are projected for this year's crop. The figure will dip to $9.64 for 2015/16. From 2016 to 2019, FAPRI calls for soybean prices between $10.11 and $10.69/bu.
Wheat prices are expected to be $6.27, which is 60 cents per bushel lower than in 2013. They will decline to $5.73/bu. in 2015/16 and fluctuate between $5.72 and $5.97 through 2019/20.
Livestock Price Outlook
For cattle producers, steer prices (total all grades) are forecast to be a record $150.42/cwt. for 2014, up $25 from last year. FAPRI forecasts a gradual price decline as supplies rebuild, from $147.45/cwt. in 2015 to $124.69 by 2019.
Pork barrow and gilt prices are forecast to be $75.96/cwt. this year. That's a strong recovery over the previous two years. Prices are forecast to fall to $66.93/cwt. in 2015, easing to a range of $55.37 to $59.17/cwt. for the rest of the forecast period.

"Reduced cattle numbers, animal disease problems and strong international demand are causing record cattle, hog and milk prices in 2014," the report says. "Supply response to these high prices and lower feed costs contribute to lower meat and dairy prices in 2015."
U.S. per capita meat consumption is forecast to rise from 198.6 million pounds this year to 208.6 million pounds in 2019.
Corn Acres to Drop
Planted corn acres are projected to drop 2 million acres in 2015 to 89.6 million. Acres will increase slightly, to the 91.8 million to 92.3 million acre range, throughout the rest of the forecast period.

Soybean acreage will decline in 2015 by fewer than 1 million acres, to 83.9 million acres. They are expected to dip further over the rest of the period, down to between 81.1 million and 82.2 million acres.

Wheat acreage will change little, from 56.5 million acres this year to 54.7 million acres by the end of the period.

Cotton acreage is forecast to decline from 11.19 million acres this year to 10.32 million in 2015, changing minimally through 2019.
Row Crop Returns Outlook
Despite the bearish price outlook, corn returns per acre will beat returns for soybeans, wheat and cotton. Corn returns over variable costs will be $288.30/acre this year and will range from $304.14 to $344.54 for the rest of the period, FAPRI says.
Soybean returns over variable costs will be slightly lower at $282.38/acre this year and between $239.31 and $296.32 over the next five years. Because of this, the soybean/corn price ratio is set to decline from 2.65 this year to 2.36 in 2015 before increasing slightly.
As for wheat, returns over variable costs will be $144.72/acre this year before ranging between $133.62 and $146.35 through 2019/20.
Details

Category: Company News
* Corn, soy, wheat on pace to decline for the week
* Weather models hotter for Midwest than forecasts on Thursday (Updates prices, adds analyst comments; changes byline, dateline, previously LONDON)
CHICAGO, July 14 (Reuters) - U.S. corn and soybean futures jumped more than 1 percent on Friday on bargain buying after steep losses during the past two sessions, traders and analysts said.
Midday weather forecasts also predicted hot temperatures next week in the U.S. Midwest, potentially stressing developing crops and further buoying corn and soy prices at the Chicago Board of Trade.
CBOT wheat futures were about flat while MGEX spring wheat gained.
"Some people who went short are taking profits and people are buying into the weather model changes. We're turning into another hot and dry pattern," said Futures International analyst Terry Reilly.
CBOT September corn futures were up 4-1/4 cents to $3.74 per bushel and CBOT August soybeans 11 cents to $9.86-1/2 per bushel by 12:34 p.m. CDT (1734 GMT), with each contract still headed for a weekly decline.
Prices plummeted on Wednesday following a U.S. Department of Agriculture report showing ample global grain and soy supplies and extended those losses on Thursday amid weather outlooks for slightly reduced heat levels.
"We had a death break Wednesday and Thursday. Now it's Friday and we have a little backfill here," Highground Trading broker Scott Capinegro said.
USDA earlier said exporters sold 1.3 million tonnes of soybeans to China, an announcement that followed a Thursday signing ceremony between Chinese soy buyers and American sellers in Iowa.
Some wheat futures contracts were under pressure from unwinding of long wheat and short corn spreads, Reilly said.
CBOT September wheat was down 2 cents to $5.09-3/4 per bushel and the most active CBOT wheat contract was on pace to decline 4.7 percent this week, in what would be the biggest percentage weekly drop since April. (Additional reporting by Nigel Hunt in London and Colin Packham in Sydney; editing by Diane Craft)
Details

Category: Company News
CHICAGO, July 8 (Reuters) - Chicago Board of Trade soybean futures rallied 1.4 percent on Friday on hotter and drier forecasts for important growing areas of the U.S. Midwest, traders said.
Concerns about the forecast also supported corn futures but the market closed off session highs as profit-taking weighed on prices after their run-up to the highest level since June 2016 during the session.
"The six to 10 day weather outlook shows warmer than average temperatures for most of the United States," said Derek Hullett, ag associate at CHS Hedging. "Precipitation levels will be average to slightly below average."
Wheat futures weakened on profit taking, with CBOT soft red winter wheat, K.C. hard red winter wheat and MGEX spring wheat turning lower after failing to broach recent multi-year highs.
Soybean futures hit a four-month high and closed near their peaks.
CBOT December corn futures ended up 2 cents at $4.04-3/4 a bushel. CBOT November soybeans were 16-1/4 cents higher at $10.15-1/2 a bushel.
Both soybeans and corn posted weekly gains of around 6 percent this week. It was the biggest weekly rally for soybeans since October 2014.
MGEX spring wheat for September delivery ended down 2-1/4 cents at $7.76-3/4 a bushel despite forecasts that raised the prospect of further yield deterioration to the already damaged crop.
"The dry and very hot conditions in the northern Plains continue to put severe stress on the spring wheat crop, especially in the northwestern Plains," MDA Weather Services said in a note to clients.
CBOT September soft red winter wheat futures were 4 cents lower at $5.35 a bushel. K.C. hard red winter wheat for September delivery was off 3-1/2 cents at $5.43 a bushel
Details

Category: Company News
 Iran-Brazil Chamber of Commerce will convene in Tehran on July 9, 2017.
Iran Chamber of Commerce, Industries, Mines and Agriculture President Gholamhossein Shafeie made the announcement in a meeting held with Brazilian Ambassador to Tehran Rodrigo de Azeredo Santos.
The two sides stressed the importance of expansion of bilateral economic interactions in a range of fields, including agriculture, oil and gas, food industries, and medical equipment and products.
Iran and Brazil held their fourth joint economic commission in Brasilia in November 2016 after a gap of two decades.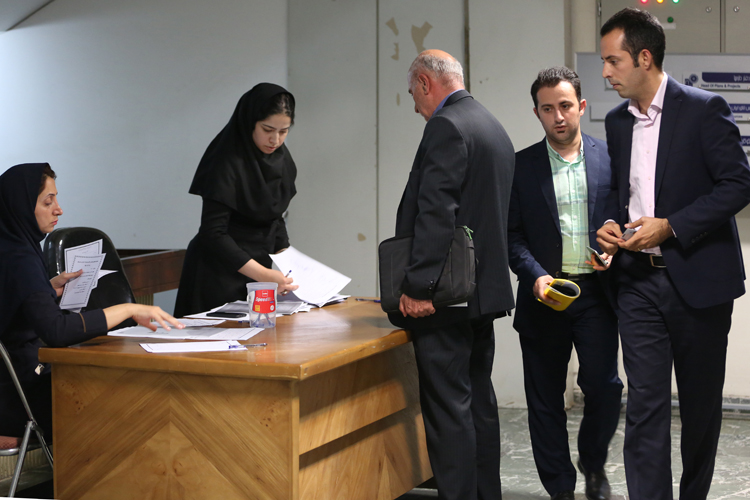 Details

Category: Company News
Greeley, CO - Mon Apr 17, 2017 - USDA-CO Dept of Ag Market News
    *Comparable Bids*

CO/NE/WY Elevator Afternoon Grain Bids

*Bids are compared to Thu Apr 13, 2017*

   Cash grain bids to farmers delivered to country elevators for Corn,
Wheat and Soybeans per bushel; and Sorghum, Millet, and Sunflowers 
per cwt. as of 3:00 pm. Apr 17, 2017.

US 1 Hard Red Winter Wheat Ordinary Protein: 3 lower.

                                                      Current    New Crop

Northcentral Colorado                          range 2.79-3.06
  Greeley                                                 2.79
  Bennett/Roggen/Byers                                    3.06

Northeast Colorado                             range 2.66-3.07
  Fleming/Haxtun/Holyoke/Amherst/
     Julesburg/Paoli/Peetz                           2.81-3.07
  Yuma/Wray/Brush/Akron/Otis/Anton                   2.66-2.76

Eastcentral Colorado                           range 2.81-3.11
  Cheyenne Wells                                          3.11
  Limon/Seibert/Burlington/Genoa/Hugo/Arriba/ 
     Flagler/Bethune/Stratton                             2.81


Southeast Colorado                             range 2.76-3.06
  Lamar/Holly/Vilas/Campo/Wiley/Springfield

Southwest NE and Southeast WY                  range 2.70-3.06
  Venango/Chappell/Big Springs/Brule                 2.70-3.06
  Kimball/Pine Bluffs/Sidney/Brownson/Potter         2.76-3.05


US 2 Yellow Corn: mostly 4 lower.

Northcentral Colorado                          range 3.47-3.67
  Greeley/Eaton                                      3.59-3.67
  Roggen/Byers                                            3.47

Northeast Colorado                             range 3.04-3.32
  Fleming/Haxtun/Holyoke/Amherst/  
     Julesburg/Paoli/Peetz                           3.12-3.22
  Yuma/Wray/Brush/Otis/Anton                         3.04-3.32

Eastcentral Colorado                           range 2.96-3.20
  Cheyenne Wells                                          3.20
  Limon/Seibert/Burlington/Genoa/Hugo/Arriba/ 
     Flagler/Bethune/Stratton                        2.96-3.07

Southeast Colorado                             range 2.97-3.27 
  Lamar/Holly/Vilas/Campo/Wiley/Springfield

Southwest NE and Southeast WY                  range 3.11-3.23
  Venango/Chappell/Big Springs/Brule/                3.14-3.23
     Kimball/Pine Bluffs/Sidney/Potter               3.11-3.21


US 2 Yellow Sorghum: mostly 7 lower.

Southeast Colorado                             range 4.23-4.68
  Lamar/Holly/Vilas/Campo/Wiley/Springfield


US 1 Yellow Soybeans: mostly 2 to 3 higher.

Southwest NE                                   range 8.23-8.28
  Venango/Chappell/Big Springs/Sidney/Potter


White Millet 

  Colorado/SW NE/SE WY                         range 5.25-6.25
                                               mostly     5.40

Sunflowers

  Colorado/SW NE/SE WY                        range 15.50-17.00